WHY DO WE THINK THAT OPENERP/ODOO IS THE BEST ENTERPRISE APPLICATION AVAILABLE?
OpenERP/ODOO offers the extraordinary business solution for its clients, helping them to construct the baseline efficiently. With various of features and functions, OpenERP/ODOO holds best in class modules, application plugins for business having a novel and particular prerequisite. It can serve small and medium-sized business with a broad business management solutions and enable them to produce the desired revenue.
HERE'S HOW WE HELP YOUR BUSINESS TO GROW!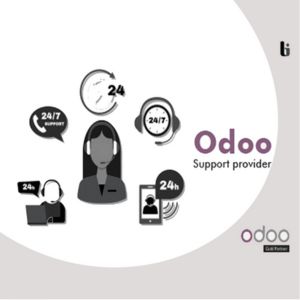 Are you searching for reliable Odoo support?
You don't get the idea of everything in life by perusing just a documentation or reading a client manually. Along these lines, if you have inquiries regarding Odoo services, specialized design, technical questions, usage, beginning, or whatever else, please ask us. Our profoundly prepared staff is ready to answer your any questions.
COMPACT AND LARGE BUSINESS MANAGEMENT APPLICATION:
OpenERP/ODOO's business application is particularly modified to run specific operation inside their relevant department. This cover project management, invoicing and accounting to proficiently deal with contracts and cost exclusively......read more

Warehouse administration, buy and manufacturing applications are also secured with the high-end integration for the best possible business outcomes and productivity....read less
MARKET EXTENSIONS AND SALES BOOSTING:
Various business upgrading application for organizations who are endeavoring to extend their marketing and promotions both locally and internationally is also an essential piece of OpenERP/ODOO feature....read more

Activities connected to these applications include live video chat with the site visitor, taking care of market-related reviews, event management, and lead generation. Every one of these activities is initiated with the goal of broadening the market extent of any business, and as a beginning, the measure to support its profits. OpenERP/ODOO additionally has business application to build association's deals through client relationships such as CRM, Point of Sale and many others....read less
WEBSITE DEVELOPMENT AND BUSINESS PRODUCTION BOOSTING:
From Blog to eCommerce, OpenERP/ODOO's site building applications are produced with respect to the promotional approach to connect with a more extensive worldwide gathering of people of potential business customers or clients....read more

It permits organization proprietors to build up their own websites which are search engine optimized. Also, OpenERP/ODOO helps for the advancement of numerous compelling business profitability tools and programming, for example, business insight and instant web-based online messaging service to ask for intelligence objectives and strengthen critical thinking abilities. Studies and significant to-do notes and furthermore make sure that the organization accomplishes its set generation points....read less