ODOO CUSTOMIZATION SERVICES
Get Odoo Customization Services at Browseinfo.Most businesses have realized that in this competitive environment, it is impossible to create and maintain a fully custom-designed software package which will cater to all their requirements and also be completely support the latest technologies.
Realizing this requirement of many organizations, Browseinfo offers one of the best odoo app customization services that provides a single integrated software solution with all the functions required to handle any business activity.
We introduce this custom solution by helping our customers understand the difference between Odoo ERP customization and standard Odoo ERP.
ODOO APPS CUSTOMIZATION, THE BEST OPEN SOURCE SOFTWARE SUITE
A standard Odoo ERP implementation provided by every other firm has many parameters, fields, and workflows that can be configured to match any company's requirements. However, when customization is required, we provide a professional level of technical sophistication to achieve a successful outcome at lower costs than other competing firms. Our solution stretches end-to-end, covering both the Odoo Community, as well as Odoo Enterprise versions.
SOLUTIONS TO FIT YOUR NEEDS
---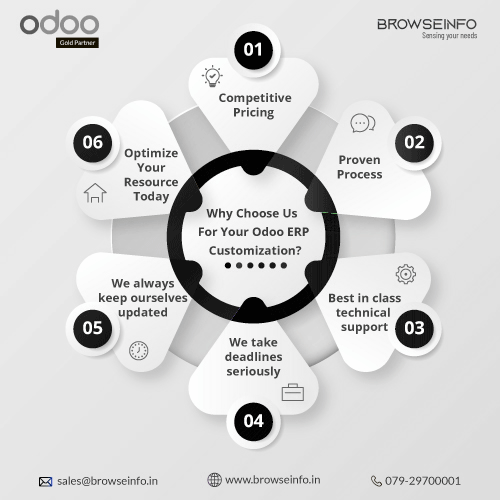 When to Go For Odoo apps Customization?
Browseinfo offers Odoo Apps Customization services in USA as well as in India to different Businesses and organizations as per the required workflow. Before beginning any Odoo customization, we thoroughly analyse the client's whole workflow.
Your Existing Odoo parameters do not align with your business goals.
Additional features will improve productivity as well as the optimal usage of the ERP
The integrated Newer business processes new features and functionalities. These new features will require customization
Customization enhances the user interface and hence, user experience.
Changing the look of the solution to match your brand
Want to create advanced custom reports? You'll need customization.
As Official Odoo Gold Partner and a leading Odoo ERP customization company in Gujarat, we embrace a collaborative approach to meet our client's needs by providing odoo customization services.. We deliver the finest and cost-effective Odoo customization services for your business. The best results come after the climb, and we've done that in the past with our elite clients. With years of experience in Odoo app customization services and Odoo app development, we never compromise in delivering the end result.
Our odoo application developers have knowledge and expertise for Odoo version 8, 9, 10, 11, 12, 13, 14, 15 and 16 in Community and Enterprise edition. We have an excellent experience working in Odoo ERP Implementation, Configuration, Customization, Integration, Data Migration, and Website Development.
Why Choose Us For Your Odoo ERP Customization?
---
Competitive Pricing
We provide 360-degree Odoo apps customization solutions at the most competitive prices
Proven Process
Our methodology has resulted in an enviable track record. Read our client's excellent feedback.
Best in class technical support
We offer our clients best in class technical Odoo support with a team of experts.
We take deadlines seriously
We work with 100% dedication to ensure timely delivery.
We always keep ourselves updated
We keep ourselves updated with the new technologies because being obsolete is terrible.
Optimize Your Resource Today
Are you looking for experienced, dedicated and professional Odoo mobile app builder...read more

or a developer for your custom Odoo e-commerce mobile app development? Send us an email on contact@browseinfo.in. Let our developers help you to improve your business by providing user-friendly Odoo apps development and customization....read less
Previous
Next